P-Eliel is a barrier-free parking garage located right in the middle of Helsinki city center. For pedestrians there are 12 different routes to and from the garage, and drivers can access the garage via two opposite entrances. The garage offers short-term parking as well as contract parking. You can get your car washed or electric vehicle charged in P-Eliel in addition to parking.
Portier space specific parking guidance solution was chosen to serve P-Eliel's customers already in 2008. Ultrasonic parking sensors as well as parking guidance displays have been functioning well during the years. During the enlargement project of the garage, more Portier parking sensors and parking guidance displays were installed.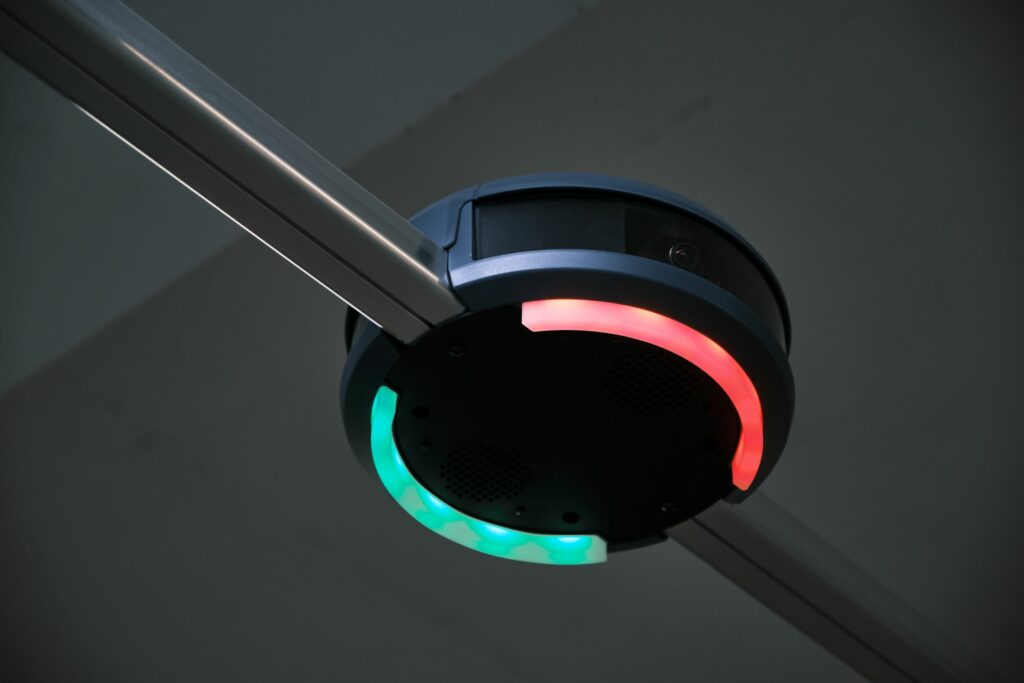 In 2018, the software at P-Eliel was updated to Portier HOST parking guidance platform, while the parking guidance displays were also upgraded to the latest technology. What was important for the customer was that our solution did not require replacing all the products since it is possible to do updating and upgrading also to older generation Portier products which makes our solution extremely flexible and profitable.
In 2022, EuroPark made the decision to offer more premium level service to its driving customers at P-Eliel. Portier ultrasonic sensors were replaced by Portier Vision space specific cameras. Portier Vision camera units monitor between one to six spaces on one or both sides of the driving lane and when a space becomes occupied, our proprietary algorithm detects the vehicle and subsequently reads the license plate.
Portier Vision cameras calculate the occupancy level of the garage, as well as provides security information by reacting to any movements around a vehicle and saving images of such an event. Cameras' audio function can be used for announcements or advertising campaigns, which can create extra revenue for the operator.
All different technologies by Portier are connected to Portier HOST making it easy to operate the parking facility with one login and receiving several reports of different parking activities.
Portier – Making the Right Decisions!
Prisma is part of Savilahti's shopping area, where thousands of people move around every day. A huge renovation project in the area started extending the Prisma outdoor parking area and building a new indoor parking garage as well. The project to renovate the Prisma area has been implemented in stages so that transactions have been as smooth as possible throughout the reconstruction period.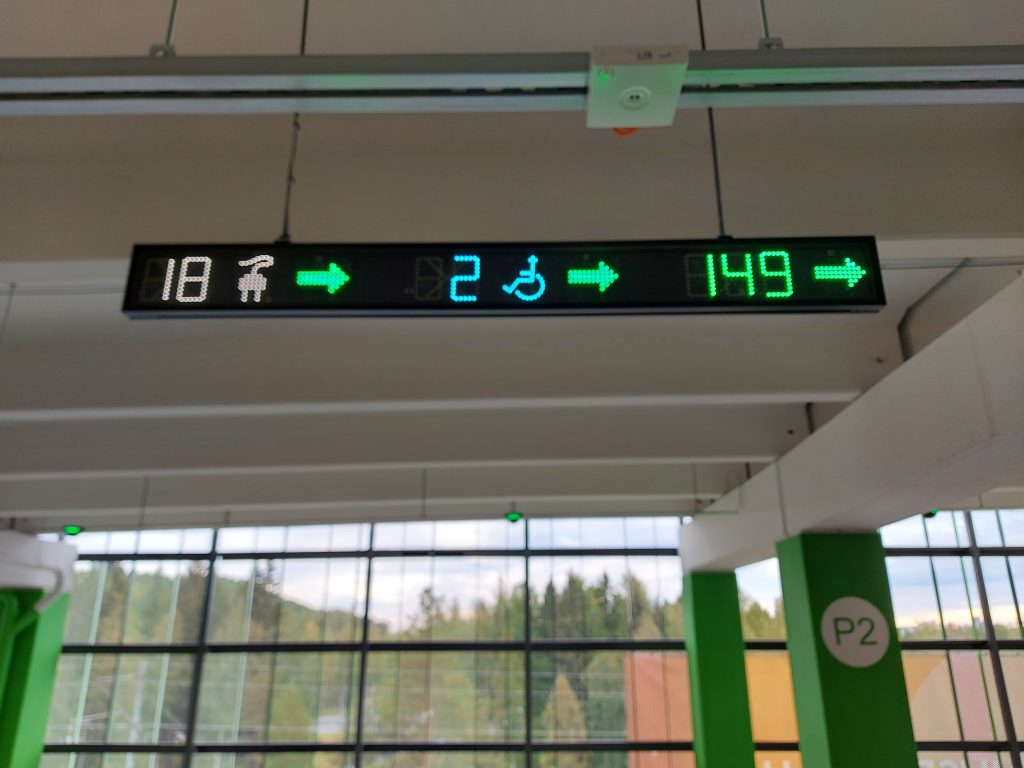 The focus of the reconstruction was to emphasize the ease of visiting the shopping center as well as creating a more enjoyable shopping environment. The new spacious garage increased the capacity of parking spaces to approximately 500 and increased the charging stations for electric cars as well. Cyclist were also considered by creating 300 bicycle parking spots, half of which are covered.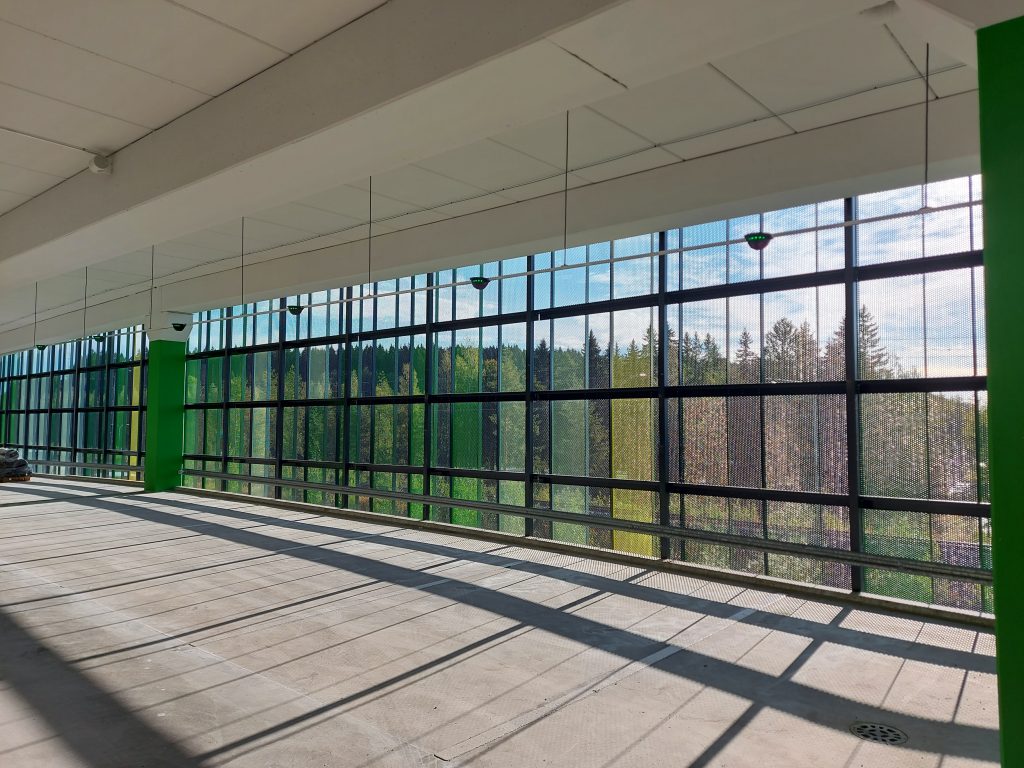 Indoor parking garage is equipped with Portier parking sensors indicating to the drivers by either green or red LEDs about the availability of each parking space. White and blue LEDs indicate parking spaces for electric vehicles as well as disabled parking spaces. Third party system transfers data of outdoor parking status to Portier HOST- a unique parking guidance platform. Portier HOST platform combines the data of Portier parking sensors together with the data from outdoor parking area and status of parking spaces is shown in the Portier parking guidance displays for the driving customers. The start of the visit is smooth and comfortable due to well executed parking guidance creating an improved customer experience.
Portier – Making the Right Decisions!
Outdoor vehicle calculation by Portier Vision Outdoor Cameras
Portier HOST platform – basis for a seamless integration
Effective calculation and guidance for outdoor parking areas remain one of the biggest challenges in parking and parking guidance. Over the years many different solutions ranging from simple induction loop counting to individual ground sensors have been used, but the most recent developments in camera technology and advanced image analysis have made it possible to utilize cameras for counting and guidance of outdoor parking areas. We answered the call from the market and developed Portier Vision Outdoor Camera for the demand.
Portier VISION Outdoor Cameras monitor defined areas and based on the proprietary image analysis, they detect the number of vehicles and calculate the number of free spaces. Space availability can then be shown, for example, in the Portier parking guidance displays or via Portier Wayfinder web application.
There is a growing demand for park & ride facilities around big cities. Parking areas in the public transportation hubs are busy and can often run out of capacity. In order to serve public transportation customers better, Portier Vision Outdoor Cameras were installed, first location after our product launch, in Kulosaari metro station Park & Ride facility. Kulosaari was the first metro station built when the metro system was constructed and opened in Helsinki in 1982. It is a busy station having two separate parking areas for its driving customers. Portier Vision Outdoor Cameras calculate and forward the information of the availability of parking spaces to Portier HOST platform, which transfers the data into Portier parking guidance displays. Displays are showing the real time status of the parking availability for drivers. The same data can also be transferred to a third-party solution, such as city of Helsinki's own web system which informs customers of the availability of parking spaces in their park&ride locations.
Portier Vision Outdoor Cameras together Portier HOST, are creating a seamless parking guidance solution – just what customers need!
Portier – Making the right decisions!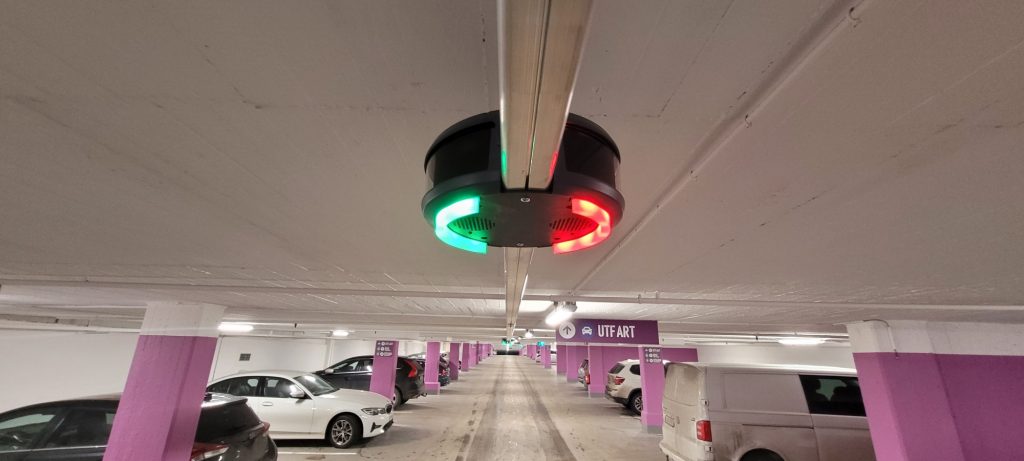 The real estate owner and developer, Green Park AB, has been concentrating in parking segment properties since 2010. The company initially focused on Stockholm area, but goals are to expand into other locations in Sweden as well.
In 2017, a collaboration between Parkando AB and Green Park was initiated. Parkando AB provides innovative mobility services, so together these two companies have great opportunities developing profit creating parking properties.
Huvudstagaraget with 700 parking spaces is Green Park's latest location to be opened which is operated by Parkando. The main garage is newly built, it is bright and equipped with state of art technology in terms of parking guidance. The garage has 300 charging stations for electric cars, so customers are truly in the center of attention when visiting this parking garage.
Portier parking guidance solutions were natural choice for the parking guidance in Huvudstagaraget. This project was completed together with Portier's longtime Swedish partner AB Blinkfyrar.
Portier entry signs welcome drivers by informing the drivers whether there are free spaces in the garage. Inside the building, Portier parking guidance displays direct drivers in three levels towards available parking spaces.
Portier Vision camera units monitor between one to six spaces on one or both sides of the driving lane and when a space becomes occupied, our proprietary algorithms detect the vehicle and subsequently read the license plate. The occupancy of parking space is indicated by different colored LED stripes. VISION stores all movement around vehicles which increases safety and helps possible damage claim resolutions. Vision Cameras provide needed security around electric car spaces as well in case of a fire. Stored videos and images can be quickly and easily searched using camera id, license plate and/or time span. VISION has also in-built audio that can be used e.g., for marketing campaigns or for streaming music.
If the customer does not remember where the car was parked upon arrival, they can check the location by using a Portier search kiosk's Locate My Car function, by typing in the license plate number and the problem is immediately solved.
Portier HOST platform features REST-API interface that can be used to export as well as import data between HOST and various third-party systems. The license plate recognition of Portier Vision cameras enables different price options between premium and regular parking spaces if wanted by the operator.
It makes a huge difference if your garage is safe and attracting customers and what is most important, additional services for customers are increasing revenue by creating returning customers.
Portier – Making the Right Decisions!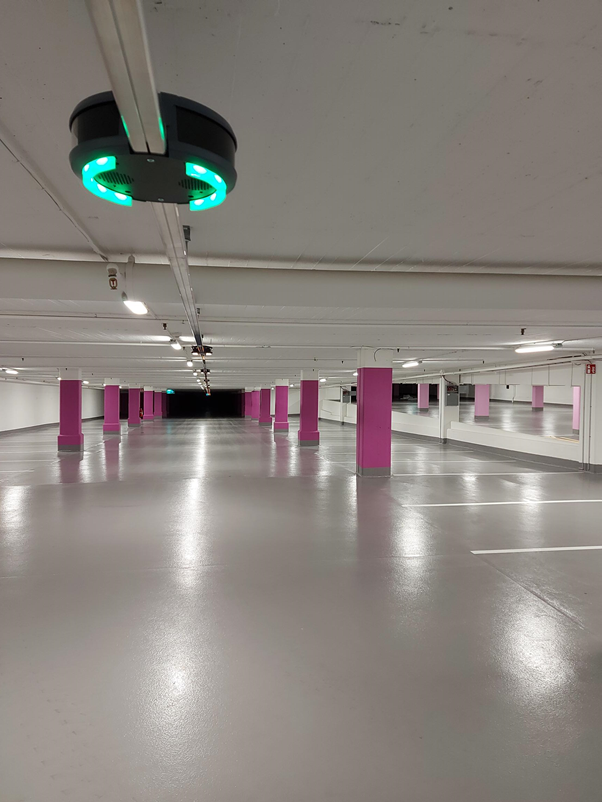 A new urban centre Lippulaiva in Espoo is now open! It offers everything for everyone, one place to run errands, have lunch, meet friends, shop in variety of shops or just sit in a café and enjoy life. Under the same roof you can also find a kindergarten, sport centre, health service for the whole family and even a library.
Lippulaiva is located right in the heart of Espoo, within greater Helsinki. Whether you are jogging, cycling, riding public transport or driving, finding your way to Lippulaiva is easy.
When arriving by car, you can find a parking space in a heated and barrier-free parking garage. No need for a ticket, parking starts and ends automatically using license plate recognition when entering and exiting the garage.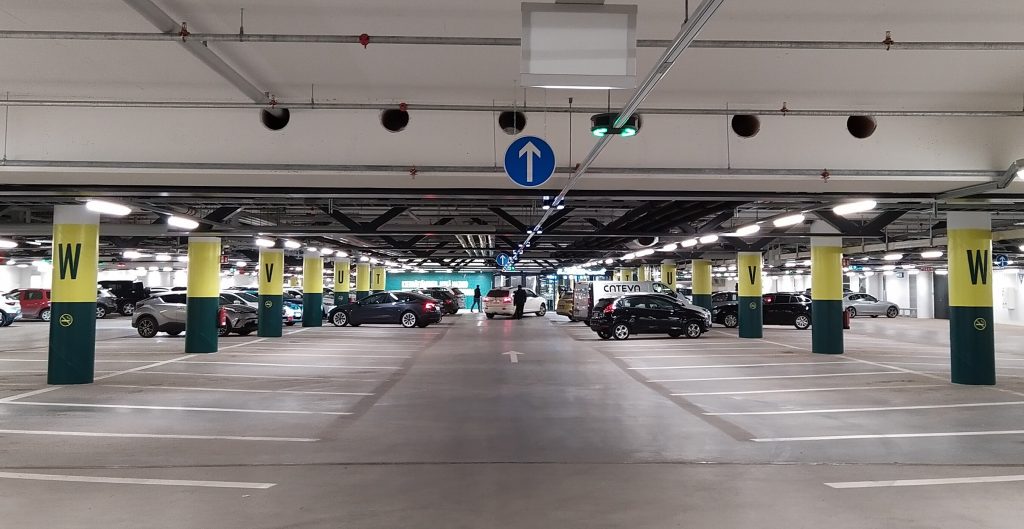 The two-story parking facility has been designed with the idea of keeping the customer in the focus all the time. Portier parking guidance displays are guiding drivers towards available parking spaces. Portier VISION™ parking cameras are installed on top of the driving lanes monitoring parking spaces on both sides of them. When a space becomes occupied, our proprietary algorithms detect the vehicle and subsequently read the license plate. All movement around vehicles is recorded which increases safety and helps possible damage claim resolutions. Stored videos and images can be quickly and easily searched using camera id, license plate and/ or time of the visit. VISION has also in-built audio that can be used e.g., for marketing campaigns, additional guidance or for streaming music.
If you can't remember where you parked your car earlier, you can use search kiosks which show you the location of your vehicle. Just type in the license plate number and off you go.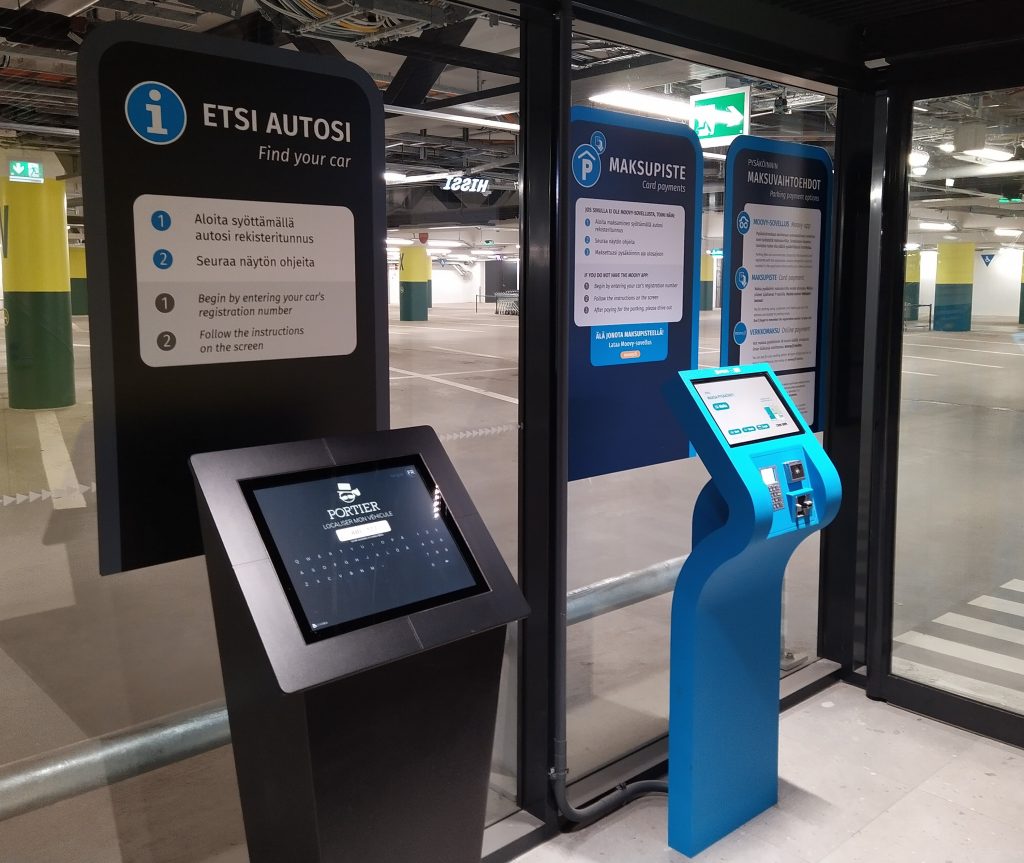 Whilst parking guidance is an important component in driving the most important objective for any shopping mall, memorable customer experience, VISION camera-based guidance solution creates additional value also in other ways. In-built license plate recognition offers possibilities to analyze customer behaviour in a detailed manner or to link the information with other data sources, such as loyalty applications. On the other hand, Portier HOST parking guidance platform provides exact data on number of visits and their durations – information that is vital for the shopping mall owners for the optimization of rental revenues.
Visiting Lippulaiva has been made nice and easy for driving customers! When all aspects are well thought in your parking facility, you will get happy and loyal customers!
Portier – Making the Right Decisions!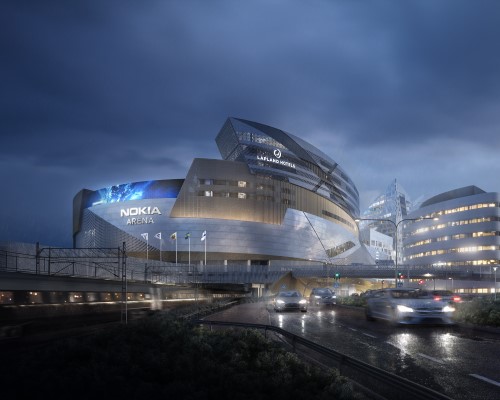 Venue parking differs from most other parking operations since the occupancy rates vary from practically zero occupancy to an overbooked parking. Customer behavior typically leads into a situation where parking fills up right before the beginning of the event which leads into congestion and idle driving by customers seeking for a parking space. This hassle is often mitigated with large number of staff manually guiding customers to the available spaces or less occupied parts of the facility. Quite naturally, this approach is not the most effective guidance solution, and it also involves significant staffing costs which offsets the revenues made from parking.
The 2022 Men's International Ice Hockey World Championship will be hosted by Finland from 13 to 29 May 2022. The host cities of the World Championships are Tampere and Helsinki, of which Tampere's brand-new Nokia Arena will serve as the main venue of the games. Aimo Park Arena is a parking facility located next to Nokia Arena in Tampere. Nokia Arena has a capacity of 13,455 people visiting venues, so well guided parking is essential factor making arriving and leaving the event as smooth as possible for the driving customers. Aimo Park Arena offers parking space for more than 400 driving visitors including disabled parking as well as spaces for charging electric vehicles.
Portier parking guidance displays are installed at the entrances of the parking facility indicating the occupancy rate in the garage. The calculation as well as parking guidance is carried out by the space specific Portier parking sensors showing either red or green LEDs for the parking space searching drivers. All Portier products are connected to Portier HOST, our unique parking guidance platform connecting all used technologies into single a single, seamless user experience. The calculation data in the garage is also forwarded to Tampere city's street network guidance system via Portier HOST. So, data transfer is easy between Portier HOST and third-party solutions via API as well.
As with any other parking, venue parking is the first impression for a person who is arriving to the event with their own vehicle and smooth parking experience has a significant impact on their impression about the entire event. Effective guidance will improve customer experience and as it also eliminates the time needed for parking, it leaves customers more time to be spent at the event and services there. At the same time, parking guidance solution will decrease operational staffing costs and resources needed to organize the staff.
Another aspect of venue parking is the exit – departures occur in an even shorter time-span than entries which leads into severe congestion and traffic problems. Whilst this problem will be nearly impossible to eliminate completely, Portier offers also dynamic traffic management solutions that can help to manage the exit traffic and to guide it to less crowded exits in case there are multiple exit options. Parking is the first and last impression for a visiting customer and hence smooth exit will increase the likelihood of customers returning!
Good luck & play hard, especially team Finland!
Portier – Making the Right Decisions!