There are 13 new buildings and homes in total for around 1,100 inhabitants in the Sohlberg quarter of Herttoniemi, Helsinki. The block has been built respecting the area's past and the result is an urban sphere where the rough industrial past meets modern construction with modern techniques.
Residential buildings of varying heights create an interesting silhouette. The center of the block is the old industrial building and the square next to it.
A block-long parking facility has been built along the major inroad to Helsinki for the common use of the residents and other users like hotel visitors, which will also act as a noise barrier against the busy road. Users of the parking facility are either contract parking or short-term parking customers.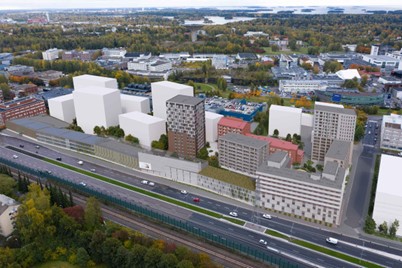 The three-story parking facility welcomes drivers with Portier entry sign which shows whether there are available spaces in the building or not. Upon arrival to the gates, license plates are read and forwarded to a third-party instance via Portier HOST API. If the user has a permit to park, Portier opens the gate. Similar logic is also used in the exits. Facility is also equipped with Portier ultrasonic counters that calculate availability of parking spaces on each level of the facility and the number of free spaces is visualized in the dynamic level signs. Both LPR as well as guidance is running on a cloud-based Portier HOST, a unique parking guidance platform which is the core of all Portier parking guidance solutions.
Herttoniemi is another great example where Portier solutions are making life easier for the driving customers as well as helping real estate developers to realize the full potential of their premise!
Portier – Making the Right Decisions!