Turku Technology Properties commissioned another construction project in the Turku Science Park area. A completely new office building, InfraCity, is dedicated to companies such as Turku Energia and Turun Vesihuolto Oy. InfraCity comprises of 7000 square meters in total of which office space holds 4000 square meters. InfraCity has been awarded a LEED Platinum certification – LEED certified buildings save money, improve efficiency, lower carbon emissions, and create healthier places for people.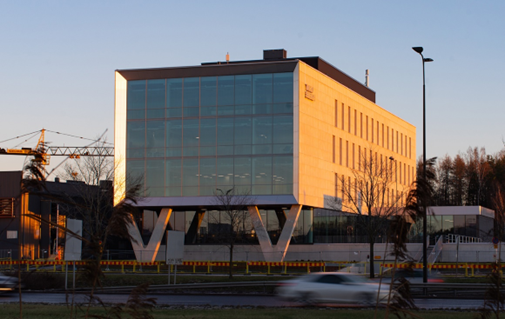 InfraCity has also an underground car park which is used by several different user groups. There are also different types of parking spaces for charging electric vehicles as well as disabled parking in addition to regular spaces. It is easy to distinguish the quotas of different user groups and different types of parking spaces with Portier space specific parking sensors and guide customers efficiently to right parking spaces. At the entrance, Portier parking guidance displays show the availability of parking spaces for each user group. Portier space specific parking sensors detect when a space is occupied or becomes available, updating the dynamic displays immediately.
Portier parking sensors as well as the guidance display are connected to Portier HOST, our unique parking guidance platform. There are several parking facilities around the Science Park which are all guided by Portier parking guidance products and connected to Portier HOST via cloud connection. With just one login, the parking operator can monitor all five parking facilities around Turku Science Park which is extremely convenient and easy. Different parking guidance technologies, different sizes of parking facilities and all the data arising from those is connected and combined into a single parking guidance platform, Portier HOST.
Portier – Making the Right Decisions!