Portier VISIONTM
Portier VISIONTM offers camera-based guidance solutions for both indoor and outdoor use. Indoor solution consists of camera units that monitor the occupancy of each parking space whereas outdoor solution monitors occupancy of larger open areas.
In the indoor solution, camera units monitor between one to six spaces on one or both
sides of the driving lane and when a space becomes occupied, our proprietary algorithms detect the vehicle and subsequently read the license plate.
Key benefits of the Portier VISION
Benefit
Why?
Extremely high accuracy
VISION's proprietary algorithms provide superior
accuracy and thus reliability – effective guidance system is built on people's trust!
Instant information
Camera unit contains all intelligence and detects both status and license plate – parking information is as real-time as possible
VISION knows vehicles
Detection of vehicles instead of older generation approaches based on image comparison or presence of license plate yields superior accuracy
Simple server and network
Decentralized processing makes system scalable with minimal infrastructure
System works from day zero
Advanced algorithms do not need learning period and thus system is fully operational and accurate from the start
Integrated audio
Globally unique audio feature to boost customer experience and revenues through background music, welcoming messages, or commercials
Advanced search tools
Search engine enables searches across all data in the database instead of limited predefined reports
Future proof solution
VISION runs on HOST platform which can mix multiple existing technologies as well as introduce new ones
Continuous improvement
All SW components of the VISION solution can be remotely updated which improves maintainability and allows continuous development of the solution
VISION stores all movement around vehicles which increases safety and helps possible damage claim resolutions. Stored videos and images can be quickly and easily searched using camera id, license plate and/or time span. VISION has also in-built audio that can be
used e.g. for marketing campaigns or for streaming music.
VISION provides information about the customers and their behavior such as visiting times and patterns as well as how different areas of the facility are filling up and utilized over days. HOST platform offers advanced search tools and also REST-API which are extremely useful in further data analysis and integrations with third party solutions.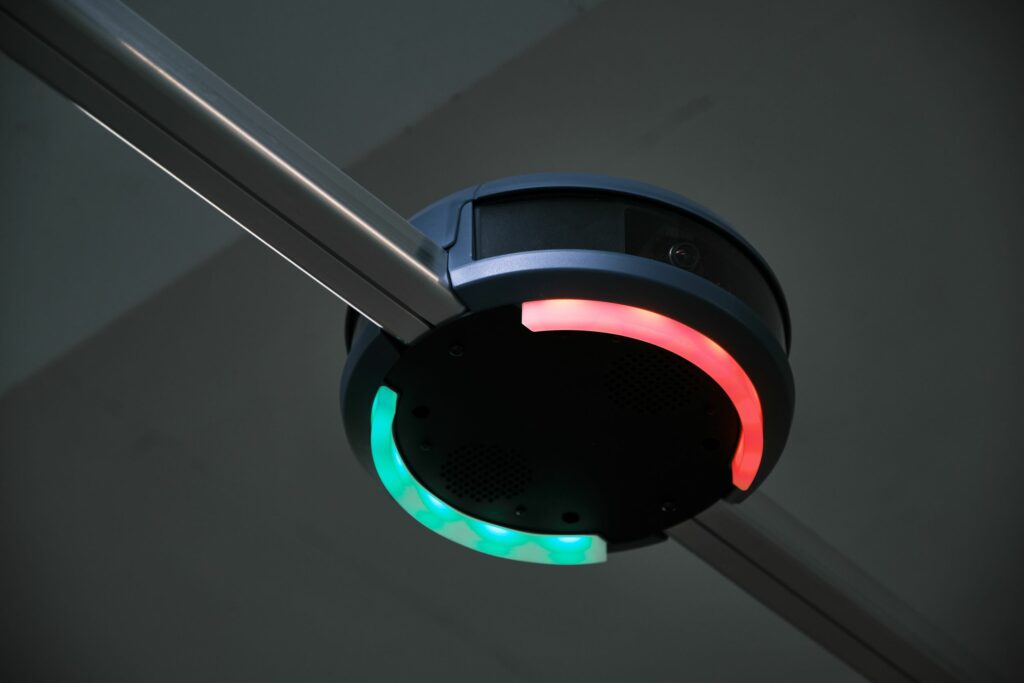 Portier VISION outdoor cameras
Effective calculation and guidance for outdoor parking areas remain one of the biggest challenges in parking and parking guidance. Over the years various different solutions ranging from simple induction loop counting to individual ground sensors have been used but the
most recent developments in camera technology and advanced image analysis have made it possible to utilize cameras for counting and guidance in outdoor parking areas.

VISION outdoor cameras monitor defined areas and based on the proprietary image analysis, they detect the amount of vehicles and calculate the amount of free spaces. Space
availability can be shown for example in the Portier parking guidance displays or
Portier Wayfinder web application.
VISION outdoor camera algorithms are proprietary development by Portier and our varying development environment offers really unique conditions ranging from midnight sun to polar night and areas flooded with sunshine, rain, slush or snow. Such a diversity has made the outdoor solution suitable for diverse conditions globally. Algorithm itself calculates the total number of vehicles in the area of interest and since the result is not dependent on whether vehicles have been correctly parked or not, solution works robustly under different
weather conditions.
Outdoor cameras offer also live streams via HOST platform and although system does not store streams, user can define whether still images are saved and how long they will be available in the system.
Check out our other solutions