Typical Features of any Airport Parking
Multiple parking areas
Mix of facilities and open areas
Parking evolved over time in relation to increased passenger numbers, many legacy systems, and multiple providers
Multiple data sources (access control, different counting solutions) – which source is right and how to handle conflicting information
Airport parking is not a single operation but rather operations within operations with different service levels, price differentiators, and desired customer experience. Traditionally, biggest differentiator between multiple parking options has been the location – facilities close to the terminal have typically higher price for parking. Whilst that is still valid differentiator, operator can also leverage parking guidance to affect customer experience and use that as one driver for pricing. In such approach, some areas may only have total counts available and thus very little guidance and convenience whereas others may offer single-space detection and even locate my car service for the returning customers. This diversity offers powerful tools for pricing and revenue optimization but also means that ideal parking guidance solution for any airport should support various technologies.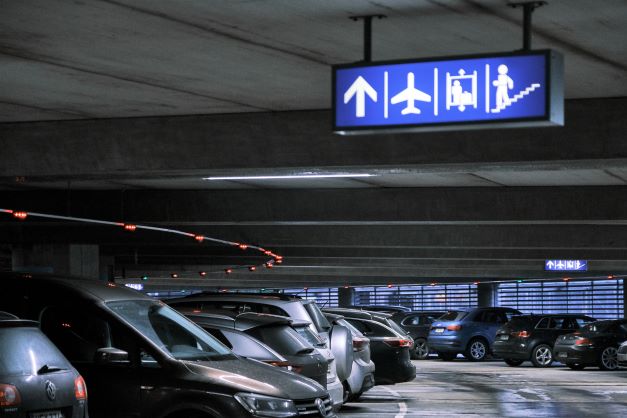 Helsinki Airport – Prior Consolidation
Helsinki airport had four covered parking facilities (P1, P2, P3 and P5) and four open areas (P4, P6, P8 and short-term parking in front of the terminal building). Those together offered more than 10 000 parking spaces for travelers.
Airport had various parking guidance solutions originating from late 1990s and delivered by multiple different companies – this is rather common feature for any airport parking as airports have expanded a lot over past 30-40 years and thus parking has also evolved over time.
Prior consolidation started airport had several different parking solutions that provided information for guidance – some were delivered by Portier whereas others had been delivered by other companies:
Induction loop counting for multi-story parking facility
S&B access control system
Ultrasonic sensors and indoor guidance
Roadside and indoor guidance displays
Facilities had also multiple overlapping information sources (such as level counting and access control) which often meant significant discrepancies between different sources, and the overall system required constant adjustments in four separate software and yet operators couldn't be sure which one of the sources is providing the correct information.
Helsinki Airport – After Consolidation
In 2019 the airport decided to start consolidating various parking guidance solutions and data sources into Portier HOST platform which forms the core for all parking guidance information. As part of the of consolidation, all existing parking technologies were brought behind one login into one system, Portier HOST.
Consolidation took place in:
Integration of the information from access control system via API
Integration of the existing induction loop counting solutions via electronic interface
Replacement of the previous roadside guidance displays by retrofitting new displays into existing signage structures to save costs
Modernization of indoor guidance technology and displays by introducing VISION space-specific cameras into the premium parking areas.
After replacement and new product installations Portier HOST at Helsinki airport manages:
Business and premium parking areas (P1 and P2) that are equipped with Portier Vision cameras (approximately 1500 spaces and 450 camera units)
Mid-class parking houses (P3 and P5) with about 8000 spaces out of which approximately 5 000 is equipped with Portier ultrasonic sensors and the remaining spaces with induction loop counting solution and data from access control solution
Economy and staff parking areas with data from access control solutions
Roadside signage (data from access control and reservation management system consolidated into HOST and then visualized in the dynamic signs)
Instead of using four different software, staff at the Helsinki Airport now logs into one software, Portier HOST, and can manage all parking guidance related information.